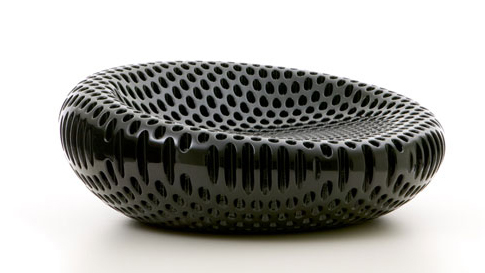 EXHIBITION : July 11, 2008 — October 4, 2008.
Yard Birds
Friday 11th July 2008 – Saturday 4th October 2008
Small gardens, yards, balconies, window boxes, even a front step…
Funk up your outdoor space however small with some clever accessories be inspired to make your own from plastic bottles, tin cans, foil or anything you can find in the recycling box.
We will be showcasing some fantastic products from designers and makers from across the UK and beyond.
Outdoor Wallpaper by Susan Bradley is made from powder coated stainless steel taking an interior Damask pattern into an outdoor room an extension of the inside living space. Also on show are her Creep Shelves and Creep Tables.
Val Hunt recycles metal drinks cans to make botanical based jewellery, bags and objects such as alcoholic onions, chickens and hens all perfect for that small space.
Stella Corrall uses recycled plastic to make a range of coasters and placemats suitable for both interior and exterior use.
Massey and Rogers, textile designers and makers, produce a collection of cushions, baskets, aprons, wallets, napkins and teatowels. They use natural yarns and fabrics in addition to recycled newspapers, comics and plastic carrier bags in their woven designs. We will be showing work from their Vintage Rave and Urban Garden Collections.
Nell Smith, who has just opened her new Studio here, makes unique embroidered garments such as tshirts, scarves and bags, plus badges and notebooks – from recycled, ethically sourced materials wherever possible.
Another of our resident makers, Lee Page Hanson has been specially commissioned to produce delicate, hand-painted ceramic birdboxes in his signature style.
Local designer furniture outlet, Ferrious have kindly loaned a thermoplastic Truffle chair – designed by Jean Marie Massaud and manufactured in Italy by Porro.
Ed Carpenter's multicoloured Pigeon lights perch above the space and red brick wallpaper and artificial grass complete the picture to create an outdoor room set.
All exhibitions & events
All exhibitions & events