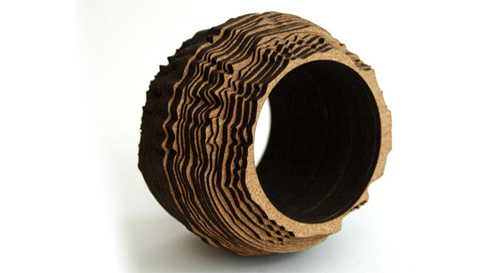 EXHIBITION : August 15, 2009 — October 31, 2009.
WOOD
15th August 2009 – 31st October 2009
WOOD – a show which embraces the diversity of this staple material. Wood may be a medium primarily associated with furniture, but we have assembled a selection of makers all using wood in very different ways which exemplify its versatility and sustainability. Also – for the first time, we are holding a satellite exhibition: Head down to Wesley Barrell on Deansgate, to see the extended collection of work by the makers listed below.
Jane Blease, one of our very own resident makers, creates innovatively designed lighting and furniture. Her simple plywood lightboxes and shades carry elaborate routed patterns to give the impression of a projection on the side, with the light from within emanating a warm glow. With sustainability being at the core of Jane Bleases ethos, she strives to use her materials in both efficient and imaginative ways. For this show, Jane is creating a new range of products.
Nick Barberton, having originally trained as an industrial designer in South Africa, spent two years building boats in the Netherlands and has been making objects from wood in Britain since the early eighties. Turning and carving wooden vessels as well as making furniture for indoor and outdoor use, he primarily uses deciduous hardwoods, which are usually locally sourced. We are delighted to be showing a selection of Nick Barbertons vessels and platters in this show.
Manchester-based Audrey Hayes creates unique sculpture, furniture, vessels, and wall pieces, gaining her inspiration from the natural environment. Her designs, made predominantly from discarded wood, range in scale from large outdoor sculptural furniture to table-top vessels. Inspired by the organic qualities of the material, as well as by the challenge of preserving its simplicity, Audrey strives to entice the viewer to touch every piece. Audrey Hayes employs her signature scorching technique on the majority of her work, maintaining the materials natural qualities whilst offering a contemporary, minimalist form.
Based in Stockport Howcroft & Jordan were winners of Best Stand at The Great Northern Contemporary Craft Fair last year. Their selection of spoons, stirrers and servers alongside trays and chopping boards are made from native and European timbers . A range of furniture compliments these domestic items. Peter Howcrofts Architectural studies are a clear influence in these designs.
Clinton Pilkington, furniture-maker, also resident here at Manchester Craft & Design Centre is being commissioned to design a new modular table especially for this exhibition. Combining his exuberant artistic style with the skills and traditional methods of furniture construction, Clint Pilkington creates remarkable modern functional pieces.
For Anthony Roussel, the synthesis between drawing and architecture are fundamental reccurring themes. His laser cut, wooden jewellery functions as both sculptural object and wearable body adornment.
Fluidity, repetition and mark-making all influence the construction of his multiple-layered 3D wooden forms which challenge our traditional preconceptions of precious jewellery.
From furniture to decorative vessels, jewellery to lightboxes, utensils to seating this exhibition will present a huge range of objects, styles, techniques and skills by makers from across the UK. Visitors will find something to suit all tastes .
All exhibitions & events
All exhibitions & events