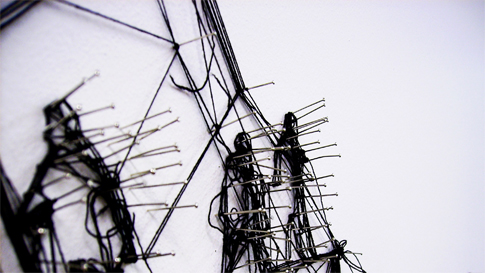 EVENT : July 3, 2010 — November 13, 2010.
Threadbare: Drawings in thread by Debbie Smyth
3rd July 2010 – 13th November 2010
Debbie Smyth, a textile artist from Cheltenham, creates playful yet sophisticated contemporary artworks by stretching a network of threads between accurately plotted pins.
Last October, we spotted Debbie Smyth during the Great Northern Contemporary Craft Fair at Spinningfields, and awarded her a solo exhibition here. Debbie's work impressed us by its blurring of boundaries between design and the drawn line. At first glance, the matrix of lines creates confusion and it is this distortion of definition that draws the viewer in. On closer inspection, the complexity of the works true nature is revealed, with the ability to both transfix and bewilder audiences.
Debbies creating a special new commission for THREADBARE which will take its inspiration from the Northern Quarters urban landscape and Manchester people, following recent research trips to Manchester to take photographs and make sketches. See Debbie installing the THREADBARE work from Monday 28th to Friday 2nd July, you are welcome to come and watch the fascinating process.
Having completed several exhibitions both nationally and internationally, Debbies' work encompasses large-scale wall installations and smaller framed pieces for interiors. Debbies' subject matter includes striking images of figures in motion and landscapes from sea to city. All reflect her ability to harness the essence of an image and recreate it in the margins between two and three dimensions.
Debbie's innovative style was developed through her training at West Wales School of the Arts, where she gained a first class honours degree in Contemporary Textiles. Following this, she began to establish her own practice and recently won the Crafts Council Development Award in 2009.
Join us for the THREADBARE opening event on Saturday July 3 between 2 – 4pm.
Meet the artist and help Debbie add the finishing touches to the installation.
Live music from up and coming singer / songwriter Jo Rose and complimentary refreshments.
All exhibitions & events
All exhibitions & events