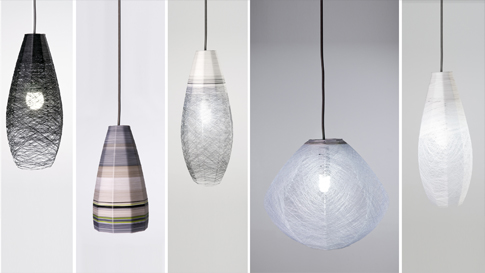 EXHIBITION : February 13, 2010 — June 19, 2010.
SPUN: Lighting by Jenny Bland
13th February 2010 – 19th June 2010
The fourth recipient of our annual Graduate Exhibition Award, Jenny Bland graduated with a first class honours degree in Three Dimensional Design from MMU in 2009. Her beautiful final year lighting collection SPUN attracted great attention, impressing industry professionals and picking up two awards at the opening ceremony of her degree show; a solo exhibition here at Manchester Craft & Design Centre and a free stand at The Great Northern Contemporary Craft Fair in October 2009.
The SPUN collection includes a series of pendant lighting shades wound like bobbins using the rotations of a record player to produce the unique design. The shades are light and airy hollow structures made from yarns and threads spun into a gossamer web, frozen into faceted forms and held in tension by the invisible resin. The shades hang in clusters of varying shapes, colours and sizes.
Also in the collection are much larger SPUN web lights – huge teardrop shaped pendants. The weave of the yarn becomes increasingly more open towards the bottom of the shade so it appears gradually more transparent and ethereal. For this exhibition, Jenny Bland has also created a new range of bowls and other interior accessories.
Bland has made a machine that actually runs thread through resin, removes the excess and then guides it onto the removable wooden former that spins on a turntable. Her Heath Robinson style production process was designed to be enjoyed just as much as a live working spectator piece. During her final degree show, which saw over 1500 visitors during the nine day event, Jenny presented live demonstrations of the SPUN process.
After graduation, Jenny presented her exciting graduate lighting collection at the renowned New Designers Exhibition at the Business Design Centre in London.
Jenny Bland is a bright new talent and has an unrivalled enthusiasm for her work. We are fascinated to see how her work progresses following the recent success of her degree show.
All exhibitions & events
All exhibitions & events