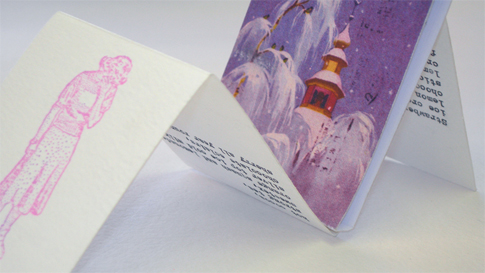 EXHIBITION : July 15, 2006.
Sitting Room
July 15 2006
Manchester Craft and Design Centre is hotsting an exciting and unusual exhibition dedicated to the art of sitting andreading. The setting is a carefully re-created Sitting Room completewith comfortable armchairs, standard lamp, wallpaper, coffee table and gramophone, inviting visitors to the centre to peruse the unique
display of artists' books (that is to say, books that are made by artists).
Within this familiar domestic scene, emphasis is placed upon the engagement between the book and the reader. Visitors are encouraged tochoose an artist's book from the bookcase, make themselves at home inthe Sitting Room and enjoy this rare opportunity to handle and interact with the limited edition artist-made book works.
Curators Tom Sowden and Lucy May Schofield, part of the Righton Press Group, based at Manchester Metropolitan University, conceived the idea
for the show through a frustration of exhibiting their own books within the confines of glass cabinets. The primary benefit of using the book form as their chosen medium is to allow direct contact between the work and the viewer; the experience of reading and interacting is paramount.
'Sitting Room' will allow the books to be read in a relaxed and cosy environment.
Artists from the UK and throughout Europe were invited to create books based around the theme of 'Sitting Room' which were designed to be handled.
Interpretations include books on domesticity, the act of sitting, reading, seated journeys, chair-related ephemera, conversations on the
settee, ejector seats, superficial housework, family photograph albums, observations and viewpoints from the living room and a day in the life
of a sofa. This eclectic mix of artists' books represents work by acclaimed artists of National and International standing, alongside
locally based artists that form the Righton Press at MMU. It is a truly welcoming show.
The Righton Press Group was established by staff members from the Faculty of Art and Design at Manchester Metropolitan University with an
interest in developing the practice of artists' books. Using the University's extensive collection of artists' books and facilities in
typesetting, printing and bookbinding, the work produced by the Press explores the potential of traditional and new technologies to expand
the possibilities of the book form. Work from the group has been exhibited in the Holden Gallery, Manchester, Artists' Book Fairs in
London and Halifax and a collection of their work is currently on tourin the USA, Costa Rica and Mexico. The Righton Press Group will host 'The First Manchester Artists' Book Fair' in Manchester on 30thSeptember 2006. For an invitation to the launch of future exhibitions send your email address to news@craftanddesign.com
All exhibitions & events
All exhibitions & events