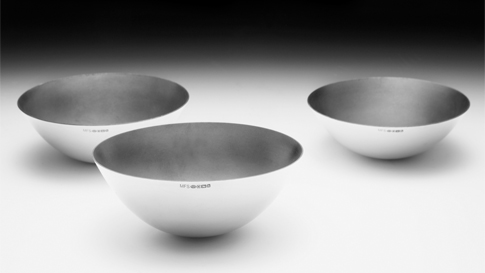 EXHIBITION : October 12, 2007 — January 12, 2008.
Silver – 25 Year Anniversary 1982 – 2007
12th October 2007 – 12th January 2008
Manchester Craft and Design Centre is 25 years old this year – the silver jubilee theme is ideal to document, commemorate and celebrate this anniversary.
Based on the idea of a celebratory meal or banquet, the Silver Exhibition shows a stunning range of utensils, accessories and exquisite tableware from leading silversmiths from across the UK. On view will be beautiful napkin rings, large and small vessels and boxes, goblets, vases, shot glasses and tea sets.
Makers confirmed include Grant Braithwaite, Selina Campbell, Shimara Carlow, Rajesh Gogna, Victoria Kershaw, Heather O'Connor, Maya Selway and Mary Ann Simmons.
Each of these makers regularly exhibit their work across the UK and beyond. Many will be showing at the Goldsmiths Fair in London – week 1 is September 24-30, week 2 is October 2-7. Goldsmiths' also started in 1982 and are celebrating their 25 anniversary.
There will be an evening viewing of the Silver Exhibition on Thursday 11 October 6-8pm. It is free to attend and all are welcome.
All exhibitions & events
All exhibitions & events