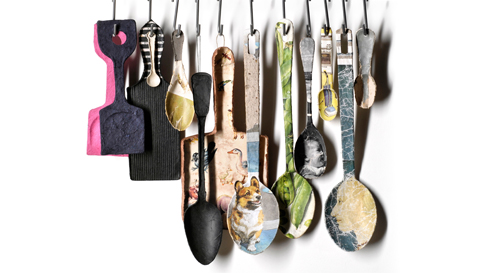 EXHIBITION : July 27, 2007 — September 30, 2007.
Paper
27th July 2007 – 30th September 2007
This exciting group exhibition features the very best of makers who transform Paper into a variety of beautiful 3D objects and structures. Recycling is a huge part of the process for many of these makers taking unwanted, used or out of date paper items and giving them a new lease of life. Alternatively a few cuts or folds can transform flat sheets into brand new gorgeous pieces.
Jennifer Collier recycles and transforms materials such as envelopes, maps and books to create beautiful non-functional dresses and shoes. Magie Hollingworth is currently focussing on a range of paper cutlery and utensils and spoons made from old childrens annuals and books.
Richard Sweeneys amazing sculptural forms are created from folding flat sheets into architectural shapes and interlocking these forms together. Unwanted paper such as redundant catalogues and phone directories are transformed by Hannah Lobley into a solid wood like material. Traditional wood working methods are then used to create objects from that material.
Karin Muhlert explores the possibilities of paper by tearing it apart and manipulating it into stunningly delicate shell like forms developed as a concept from walks along the beach. Audrey Douglas makes fantastical, fairytale inspired surreal sculptures out of papier-mache that are intricately and exquisitely painted with scenes from nature.
Quintessentially English subjects for example the Hokey Cokey, Rich Tea biscuits and Pick n Mix sweets are the inspiration for books, cards, pictures and other curios made by Ruth Martin.
All exhibitions & events
All exhibitions & events