NORTHERN QUARTER AFTER DARK : May 15, 2014.
NQ After Dark – Piercing Brightness screening @ Passion Academy
Passion studios will be presenting a screening of Piercing Brightness starring Sam Edwards. Piercing Brightness is a science fiction feature film directed by internationally acclaimed artist Shezad Dawood. The film utilises science fiction as a backdrop from which to contest fixed notions of race, migration and identity. It addresses issues of time, memory and belonging through a careful interplay of mainstream science fiction and its ongoing relationship to more experimental modes of film making.
Time: 7pm
Free Event  / For complimentary tickets email: sophie@passionacademy.co.uk
For more information please visit: wwww.passionacademy.co.uk 
Facebook: https://www.facebook.com/Passion.Academy
Twitter: https://twitter.com/_PassionAcademy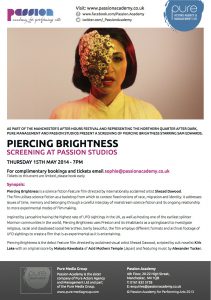 All exhibitions & events
All exhibitions & events