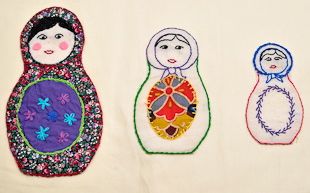 WORKSHOP : January 25, 2014.
Ministry of Craft – Sew simple: Introduction to hand embroidery
Time: 14.00-17.00
Sessions: 1
Cost: £35.00
Inclusive Material Costs: £5
Skill Level: Beginner
Venue: Manchester Craft & Design Centre
If you're not ready for a machine or prefer the simpler crafts in life why not sit down, relax and have a cuppa, while hand embroidering one of our pretty Russian dolls.
Designed by our talented tutor Deborah Rodgers, you'll hand embroider your Russian doll onto a high quality union linen tea towel. Learn how to hand embroider the following stitches: chain stitch, daisy chain, blanket stitch, and backstitch – four clever and effective embroidery stitches you can use on future projects! Other useful techniques include how to use bondaweb, and hand appliqué skills.
For that extra wow factor bring along your own favourite fabric scraps and learn how to hand appliqué, to give your doll a truly personalised touch. We have a selection of fabric remnants that you can also choose from.
Dip into our range of gorgeous coloured embroidery cottons and before you know it you'll be sewing your cares away, embroidering new life into anything from pillow cases and cushion covers to shopping bags and shirts….
For more information & to buy tickets: CLICK HERE 
All workshops
All workshops