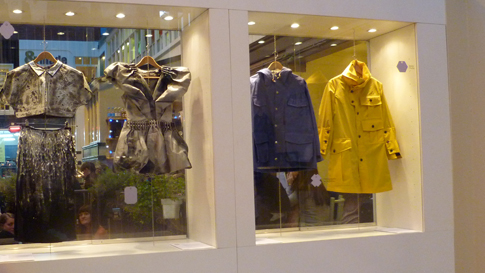 EVENT : November 26, 2011 — February 25, 2012.
Manchester's Fitters
26th November 2011 – 25th Feb 2012
November saw the launch of our new fashion-forward exhibition, 'Manchester's Fitters'. Manchester has long been home of original brands and innovative design, and Manchester's Fitters will showcase a small but beautifully formed overview of the city's finest fashion creatives.
Find work from contemporary fashion practitioners including designers, filmmakers, stylists, publishers, brands & retailers with a Manchester connection. The exhibition will showcase garments, objects, films and images, demonstrating the diversity of fashion practice in the city.
Featured artists:
Nabil El Nayal won the prestigious British Fashion Council MA Scholarship and theHarrods Launches Initiative in 2008, just after graduating from a BA Fashion at Manchester School of Art. He went on to study for his MA at the Royal College of Art and has recently been short listed for the Fashion Fringe award. Nabils striking works have historic references and play on elaborate and sometimes dark but quirky concepts.
Holly Russell won the Best In Manchester (Fashion) Award in 2009 for a collection that utilised hundreds of hand-sewn scarab beetle wings and human hair. The same adventurous designs were worn by Lady Gaga, which received a torrent of press for the young designer.
Exhibitors:
Flux Magazine
Holly Russell
John Earnshaw
Junk
Nabil El-Nayal
Oi Polloi – Cottonopolis
All exhibitions & events
All exhibitions & events