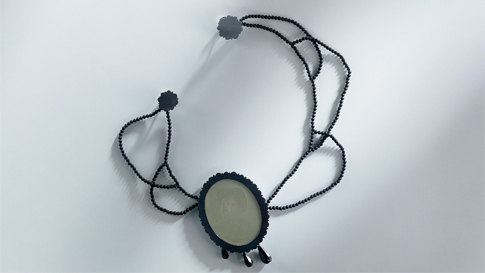 EXHIBITION : January 23, 2009 — March 7, 2009.
Horror Vacui – Fear of the Void
23rd January 2009 – 7th March 2009
In philosophy, Horror Vacui stands for a theory initially proposed by Aristotle stating that nature is uncomfortable with a vacuum. Therefore empty space would always be trying to suck in gas or liquids to avoid being empty. In psychology, Horror Vacui denotes a fear of empty spaces.
This exhibition explores how to display the fear of emptiness in jewellery. The display includes a variety of interpretations to the theme Horror Vacui covering death, extinction, religion, superstition, structure, chaos, art history and nature. Click here for a list of exhibitors and their images.
Each item is totally different – every visitor should be able to find a piece that they can connect with. Some items are highly elaborate and decorated using numerous materials. Ursula Woerner's object 'Hong Kong' uses brass, wood, silver, coral, coins, pearls and gold acrylic paint. Whereas Ruth Adamski's untitled ring is created using purely silver and threads.
This exhibition started in July 2008 in Cologne then traveled through Düsseldorf and Hannover. Manchester is the first venue in 2009 after which the work will move to Idar-Oberstein, Krakow and finishes at the Kreismuseum Peine in November.
For the duration of Horror Vacui there will be a complementary jewellery exhibition in Divinity based on the top floor of the centre. 'Black is a Colour' will feature work by Deborah Zeldin-O'Neill, Eve Redmond, Mai Sakuma, Carly Pettit and Ed Chadwick.
All exhibitions & events
All exhibitions & events