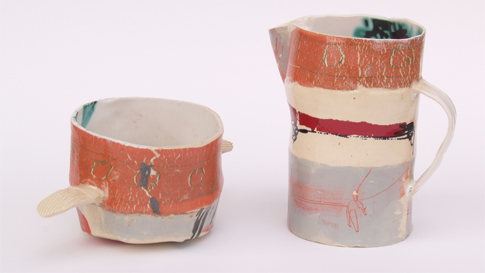 EXHIBITION : October 17, 2008 — January 10, 2009.
Feast
17th October 2008 – 10th January 2009
How comforting and indulgent to eat off a favourite plate in beautiful colours or to slurp soup from a gorgeous patterned bowl! What a treat during the winter months to sit in your favourite chair with a good book and sip hot chocolate from a beautifully glazed mug! How wonderful to serve home-cooked food from a fantastic platter or casserole dish
This exhibition showcases work by both established and emerging ceramicists, including new graduate Rachael Gardiner who revitalises old, unwanted plates with quirky illustrations and ribbon adnornement. Sean Gordons vibrantly-coloured earthenware pots take their inspiration from everyday functional objects such as old tinware and coal scuttles while AmyLewiss decorative vessels reflect land and seascape, with their irregular shapes, bold colours and delicate linear illustration.
People Will Always Need Plates Manchester range, which includes the B of the Bang mug and the 'Toast Rack' range, will be on display alongside some of their other established architectural-inspired designs. Sally Raven fires her domestic pots and cups continuously for 3 days, giving her work a homely feel with subtle, autumnal colours. Vivienne Rosss vessels act as containers for both objects and ideas. The shapes are kept simple, while the surface decoration is characteristically bold with nude figures. Lucy Whitings monochromatic, rocking teapots and cups play with the ideas of form and function amusing and surprising objects, yet totally functional in their design. RCA Graduate, Lucy won Best in Show at Origin 2007.
Throughout the exhibition, you are invited to draw your favourite Feast or share your favourite recipe. Come and see the drawings currently on display on Cafe Aromat's walls.
We are very grateful to Habitat for the kind loan of their placemats, coasters and table runners for use in the exhibition.
All exhibitions & events
All exhibitions & events