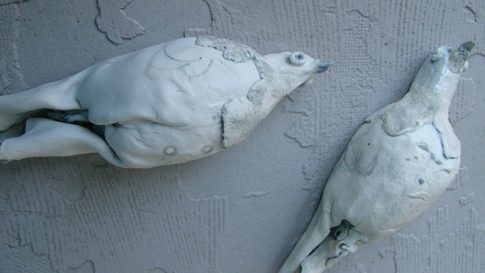 EXHIBITION : May 16, 2009 — August 1, 2009.
Eve Bennett – Head Full of Magic
16th May 2009 – 1st August 2009
PLEASE NOTE:
Eve's ceramic 'Dead Birds' are now on permanent display at MCDC and can be found on the front staircase at the Centre.
Head Full of Magic
Eve Bennett's 2008 degree show display – a collection of handmade lifesize ceramic dead birds, all glazed in muted pastel colours, told the story of the time when her mother looked after her uncle's birds, but left the gas on the stove on, which killed the birds! Despite the tragic nature of this tale, there is an element of humour and Eve has used that to create a whimsical and touching dialogue which is evident in all her work.
Eve Bennett's installations celebrate both the living and the dead – commemorating those who have shaped her life. Her late Mother's glasses are kept on Eve's bedside table as a constant reminder of her Mother, her childhood and the constant search for her Mother's misplaced spectacles.
Eve has also gathered stories and items of sentimental value from other people. These tales, along with Eve Bennett's own memories, have inspired the creation of an entirely new collection of work for the show, which is made up of groups of little porcelain mice dotted around the building, butterflies displayed in traditional museum cases, dead birds and frogs in cabinets alongside other quirky objects which tell some very touching stories.
All exhibitions & events
All exhibitions & events