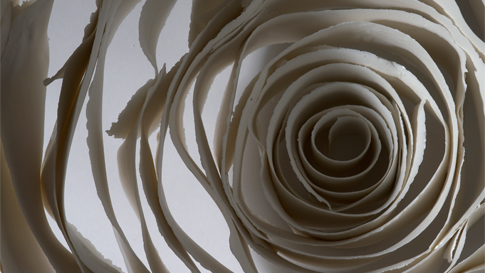 EXHIBITION : November 14, 2009 — January 27, 2013.
Distinction
14th November 2009 – 27th January 2010
A stunning collection of distinctive monochromatic ceramics, glass and textiles, to be shown on our ground floor his winter alongside our vibrant selection of resident makers.
Annette Buganskys ceramics refer to a background in fashion and costume design, resulting in work, which is highly tactile and sensual. Inspired by a number of different sources including textile structure, patterns in nature, contemporary interiors and city architecture, her latest range of porcelain knitted texture vessels combines traditional and experimental knitting patterns to create surface pattern.
Sara Flynns primary collection of bowls and vessels take their inspiration from roads, pathways and hedgerows, which inform her alterations of the thrown form to produce sculptural, decorative vessels. Her second range of simple bowls aims to have a real presence and form a relationship with the viewer, no matter how large or small the bowls may be.
Nitin Goyal creates bespoke luxury interior accessories and womenswear. We will be showcasing some of his interior products with their signature hand-crafted smocking, pleating and stitching along with an interesting mix of embellishments and fine embroidery. Having started out specialising in luxury scarves, Nitin Goyal now creates a complete womenswear and lifestyle accessories range.
Moriam Grillo-Henry's beautiful pieces are the product of contemplative and creative moments that celebrate ancient ceramic traditions and juxtapose them with modern interpretations. All work is unique and may be freestanding or wall mounted.
Gillies Jones elegant glass bowls are all handmade from high quality raw materials. Each one is hand blown and decorated in their North Yorkshire studio. The bold and contemporary designs, produced in limited numbers, feature graphic patterns, breathing new life into the ancient tradition of glass making. We are showing a selection of bowls with black surface patterns.
Becky Harles white porcelain creations aim to challenge and test the historical preconceptions of clay. Harle constructs seemingly unstable forms, which appear to precariously balance and through their fragile structures, enforce a feeling of awkwardness upon the viewer. Each layer resembles parchment with increasingly difficult, dangerous and sharp edges. Sketching and the organic process of making itself inform the designs of Becky Harles pieces and she is constantly striving to expand the boundaries of what porcelain can do.
Timea Sido's bespoke ceramic Tangled Web Collection replicates a damaged spider's web, which no longer has its symmetry and well-structured lines but instead a wonderful mess of random lines which all overlap. This attention to detail and fine 'tangled'pattern is Timea's signature style, which she utilises on a range of boxes, vessels and bowls.
Kaori Tatebayashis hand-made ceramic tableware is made with a unique hump moulding technique. Her Japanese white slip ware is predominantly influenced by old Korean ceramics. The quietness and simplicity of her tableware allows it to fit into a variety of settings, making it hugely accessible, while her simplistic sculptural groupings of mainly domestic objects make the viewer reconsider the beauty of such everyday items.
Resident makers are also responding to the black & white theme, with a complimentary display of their work in a cabinet on the ground floor curated by MMU volunteer Anna Whitehouse.
Deborah Zeldin O'Neill, Eve Redmond, Mai Sakuma, Carly Pettit, Kate Donnelly & Ida Percy will also be showing a collection of jewellery in the exhibition, following the success of their recent Black & White exhibitions.
We would like to thank Habitat for the very kind loan of fairy lights, string curtains, festive decorations and for their support for this exhibition.
All exhibitions & events
All exhibitions & events