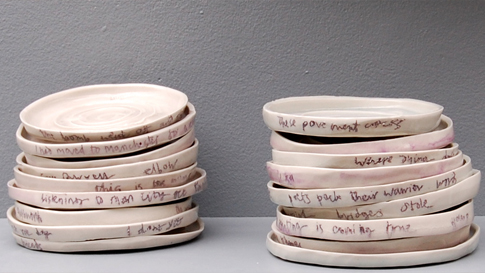 EVENT : July 14, 2012 — September 10, 2012.
Crafting History
14th July – 10th November 2012
Crafting History showcases creative responses to the history of Manchester Craft & Design Centre. Artist Carys Davies has produced a ceramic installation, uncovering the tales and memories of MCDC, donated during the Collecting History project by visitors, artists and friends. 26 resident makers from the Centre have also donated work to the exhibition, which respond to historical facts or stories from MCDC's past.
The exhibition forms a key part of the Centres 30th Anniversary celebrations and is part of a programme of events focused on collecting and sharing MCDCs story to date. Objects donated by resident makers to the Crafting History exhibition will be auctioned in November 2012.
NEWS: 30th Anniversary Charity Auction
Pieces created for Crafting History will be sold at a charity auction on 8th November. We invite you to book your free ticket to our evening event.
All exhibitions & events
All exhibitions & events