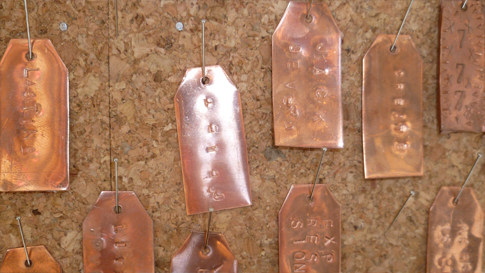 EVENT : April 28, 2012 — June 30, 2012.
Collecting History
28th April 2012  – 30th June 2012 
We want to collect all of your tales, memories and facts about Manchester Craft & Design Centre as a creative venue and, if you remember, as a fish and poultry market.
Artist Lucy Harvey will be working closely with us to gather in your stories and will be interpreting them in our next exhibition, Crafting History. We would love you to visit the blog, where you can read peoples' posts and leave your own.
Email, blog or pop in any time to leave your memories and look out for our story-collecting team in the Northern Quarter.
Lucy will also be popping into the centre, collecting histories throughout the exhibition. She will be gather your stories utilising interesting art materials and processes, which have been developed from her own creative practice.
Sampler-cultureclash
14.07.12
Sampler-cultureclash will host an evening of sampling shenanigans! The art collective will mix sound, word and visual information to perform a live piece that responds to MCDC's space as a place to 'make'.
Manchester Metropolitan University Embroidery BA students will also be asking visitors to participate in sampling activities throughout the event.
All exhibitions & events
All exhibitions & events