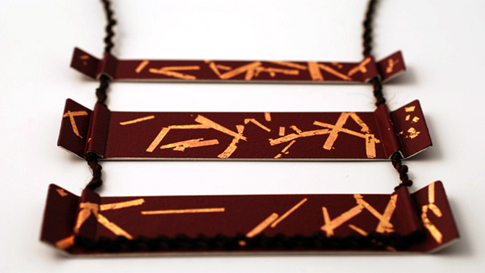 EXHIBITION : June 30, 2007 — July 21, 2007.
Ars Ornata Europeana Student Competition
30th June 2007 – 21st July 2007
Ars Ornata Europeana is a major biennial European celebration of contemporary jewellery. Held for the first time in the UK this year 5 – 8 July 2007, AOE offered a most exciting programme of exhibitions and events. Aimed at jewellers, artists, curators, gallery owners and speakers from across Europe and beyond, it was the perfect venue to establish new contacts and network in a relaxed and friendly atmosphere. The theme for 2007, INSIDE OUT, encouraged a search across disciplines for new and fascinating inspiration and offered a forum for dialogue and discussion.
Manchester Craft and Design Centre are proud to be part of this exciting conference and is currently showing the results of the international student competition Jewel in the City. Participants were required to design and make a brooch in any material not to exceed 100 x 100 x 100 mm. Prizes were awarded to Ciara Clark, Carole Deltenre and Rui Kikuchi from the 18+age group and to Jamie Thompson and Charlotte Watson in the 16-18 age catagory. Delegates to the conference also chose their favourite pieces – in the 16-18 age group the winner is Erica Naylor from Keighley and in the 18+ age group the winner is Natalie Perret from France. Visitors to the Craft Centre can contribute to the people's choice. So come down and choose your favourite!
All exhibitions & events
All exhibitions & events