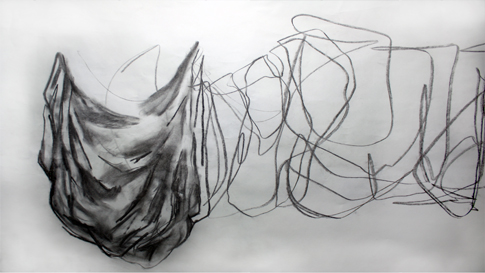 EXHIBITION : March 3, 2012 — April 21, 2012.
Anti Sculptures by Laura Jane Blake
3rd March 2012 – 21st April 2012
Laura Jane Blake brings form to life, via the construction and animation of textile sculptures. She takes moments of movement from natural and industrial landscape and repeatedly brings them to the viewers attention, aiming to make us acutely aware of the fantastic in our daily environments.
The Anti-Sculptures exhibited were created after Laura saw industrial sacks hanging and inflating with the wind on a building site in Manchester. She watched them change shape and alter with the wind, much like we may see a plastic bag inflating and moving in this way. She recreated the sacks form and movement using industrial textile construction techniques, hand-dyed poly-cotton and chiffon and programmed domestic fans.
Lauras Anti Sculptures also challenge the notion of sculpture itself, by reversing the concept of reducing a solid material to make a permanent sculpture. Instead of chiselling away at a piece of marble, Laura instead inflates textile vesselsto create form.
Laura Jane Blake was awarded the Manchester Craft & Design Centres 6th Graduate Solo Exhibition Prize in 2011, during her graduate show at Manchester Metropolitan University. The Embroidery BA graduate now works from a studio in Salford and continues to embrace process, motion and sculpture at the heart of her ongoing practice.
At the back of the Centre, Laura is exhibiting a new set of development drawings resulting from a recent artist residency in Istanbul.
All exhibitions & events
All exhibitions & events